New Jersey town told to watch out for rattlesnakes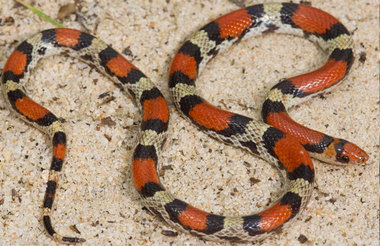 It's late July, and love is in the air — at least for the timber rattlesnakes.
Police have recently received calls from residents who have seen the snakes, which are currently in the midst of their mating season and are therefore are lot more visible, according to Robert T. Zappalorti of Herpetological Associates Inc., who advised police on the phenomenon.
The snakes have so far been spotted in the Roosevelt City section of Whiting, police said. They're also known to live in Fox Hollow and Timber Green.
Police Friday offered some common-sense tips, via the state Department of Environmental Protection,  if one encounters the venomous rattlers. First, don't go near them — while passive, the snakes regard humans as predators and may strike if threatened. They can bite someone from a distance of up to half their body length away, so the public is advised to give them a wide berth.
The snakes are endangered, so it's against the law to kill, harass or even handle them.
Following an encounter, the public is asked to note the time and then call the state Division of Fish and Wildlife at the appropriate phone number during business hours: Southern region: (609) 628-2103; Northern region: (908) 735-8975 or (908) 735-9281. On nights and weekends, call 1-877-WARN DEP.
And should the snake bite, first, call 911 immediately and don't try driving yourself to the hospital, the DEP says. Clean the wound with soap and water and try to keep the affected area immobile and below the heart.