New Jersey Police Department Settles with Family of Man They MURDERED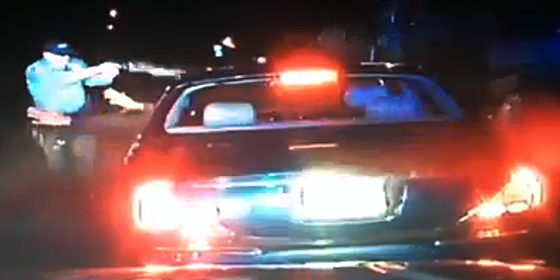 The family of Jerame Reid, who was shot dead as he held his hands up, reached a tentative settlement with the Bridgeton Police Department in New Jersey.
The shooting was caught on dash cam video as well as a witness video, which is the only reason the family managed to reach a settlement.
But the video was not enough to indict the cops.
The settlement is still tentative and the family's lawyer is hoping for more.
"Nothing's finalized," Conrad Benedetto, the lawyer representing Reid's widow, who would receive a mere $200,000 plus legal fees, said Monday, according to Philly.com.
If a judge signs off and all parties agree, Reid's infant son would receive about $1.5 million in damages when he turns 18. Reid's widow would receive $200,000 in damages. And Reid's mother, Sheila, and the mother of his child would each receive $70,000.
Bridgeton New Jersey cops Braheme Days and Roger Worley had arrested Reid four months prior on charges of resisting arrest and knew he'd landed prison after being convicted as a teenager for shooting at state troopers.
Reid was 36 when he rolled the stop sign on December 30, 2015 that prompted Days to pull him over.
After Days creeps behind the car Reid was riding passenger in, he asked to see drivers licenses.
Suddenly, both cops frantically draw their guns, apparently upon noticing a gun in the glovebox.
"He's reaching for something," a cop yells.
"Don't you fucking move!" Days screams and "Show me your hands!"
Officer Worley then reaches into the car and removes the handgun without any resistance from Reid.
With the handgun removed, a panicked officer Days screams at Reid, "Hey, Jerame, you reach for something you're gonna be dead. Just keep your hands right there."
"He's reaching! He's reaching!" Days blurted.
"I ain't doing nothing. I'm not reaching for nothing, bro. I ain't got no reason to reach for nothing."
Reid, in fear for his life from having guns aimed at his head on him by a couple of cops who had presumed a military posture, exited the vehicle.
The video clearly shows Reid's hands up, posing no threat to either officer, when Days unloaded seven rounds, one which killed him; Worley fired a single shot that missed.
Police, as usual, said they feared for their lives.
A Cumberland grand jury declined to indict Days, but he and Worley have since departed from the Bridgeton Police Department.
The civil rights settlement is contingent upon a federal judge's approval.
Reid's murder flared tempers in Bridgeton, which is a mostly minority city with a population of about 25,000 and lies just South of Philly. Reid's life was snuffed out by Bridgeton police in the wake of several deadly shootings of unarmed black men in Ferguson, Missouri and New York that triggered months of  protests and violence.
As well as unheard calls for a re-examination of police use of force.
Until last week when folks living in New Jersey got a response from legislators who proposed a bill which would require a special state prosecutor to investigate whenever someone is killed by a law enforcement officer, rather than local politicians.