Top 10 Most Corrupt Politicians in 2015-2016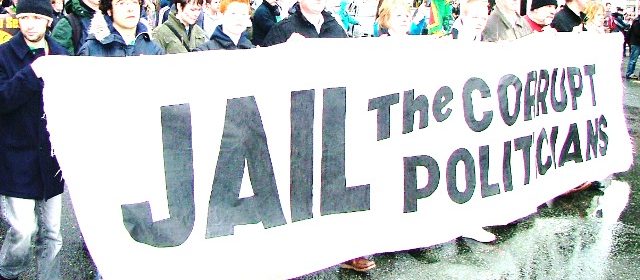 One of the draws of national politics in the US and countries around the globe is money and power. Many politicians get involved in national politics to enrich themselves above all else. But which politicians are the most corrupt as of 2015 and 2016?
Here's a list of 10 corrupt politicians who took advantage of their power:
#1: Andrew Caspersen
Position: Former Wall Street executive
Age: 39
Charges: security fraud, wire fraud
Maximum penalty: 20 years in federal prison
Random Fact: Caspersen allegedly defrauded his own mother, the family of his former girlfriend who died on 9/11 at the World Trade Center, and many other close friends.
Summary: 
The former Wall Street executive and scion of a wealthy New York family, pleaded guilty last week to federal charges that he defrauded his own mother, other relatives, friends and a hedge fund foundation of $40 million.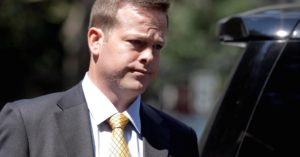 This has been a steep fall for Caspersen, who was a financier educated at Harvard. His lawyer told the press that his client has a compulsive gambling addiction and mental illness that caused him to come up with a Ponzi scheme in 2016. In a plea deal, federal prosecutors stated that Caspersen agreed to 12-16 years in prison. He also will have to pay a fine of at least $5 million and pay restitution to victims. This federal fraud case has riveted Wall Street since March, when Caspersen was arrested at Laguardia Airport as he got back from a vacation with his two young children, his wife and in-laws. His victims were many, including his mother, and the family of his former girlfriend who was killed on 9/11. Others who were caught up in the scandal were Louis Bacon, who is the hedge fund manager, and Paul Taubman's firm PJT Partners, which is where Caspersen worked while he carried out the fraud. Caspersen created phony email addresses and a fictitious colleague at the company. Caspersen used his wealthy network to find new money sources for his scheme. He promised returns of 15% each year through a private investment vehicle. In reality much of the money that Caspersen raised was lost on aggressive bets in the stock market. He traded one week put options that let him bet on a drop in the S&P 500. He was very bold in his trades, and he eventually blew through tens of millions of dollars. Caspersen has had a serious casino and sports gambling problem for years.
#2: Phil Griego
Position: Former New Mexico state senator
Charges: bribery, perjury, violating his oath of office
Maximum penalty: 10 years in prison
Random Fact: Griego stands accused of using his position to pocked a $50,000 broker's fee related to a Santa Fe building sale.
Summary: Former New Mexico state Senator Phil Griego is going to face several public corruption charges, after a district judge ruled last week that there was probable cause to proceed against the San Jose NM Democrat.
After a four day hearing, the district judge dismissed one felony fraud count against him but decided that he should face trial on nine other charges.
The attorney general for the state, hector Balderas, stated that he is happy with the ruling by the judge. "I am grateful to Judge Loveless for hearing this matter, and I am pleased with his ruling that will allow us to pursue justice on behalf of taxpayers," Balderas said in a statement. "My administration is committed to aggressively combating public corruption in New Mexico and holding the powerful accountable."
The attorney for Griego stated that he was surprised that the judge ruled as she did and that Griego will maintain his innocence. Griego has previously pleaded not guilty to the charges.
If he is convicted, Griego would be the latest NM legislator to come under fire for public corruption. In 2008, manny Aragon, the former Senate leader, pleaded guilty to kickbacks in a scheme to defraud the state government in the construction of a courthouse in Albuquerque. Other well known New Mexico elected officials have been caught up in corruption charges too.
The assistant attorney general for New Mexico has said that Griego was in violation of his oath of office by using it for personal gain and not revealing conflicts of interest.
He added that Griego's legislator role afforded him more access to other lawmakers and officials during the approval of the sale of the property. The argument is that people would do things differently if they had known Griego's connection to the sale and that he was going to get $50,000.
#3: US Rep. Corrine Brown
Position: US congresswoman
Age: 61
Charges: Public corruption
Maximum penalty: 10 years in prison
Random Fact: Indictment remains sealed, so exact nature of charges are not yet known.
Summary: 
Corrine Brown was indicted last week on charges of public corruption and is going to be arraigned in federal court in Jacksonville, according to law enforcement officials. The charges relate to her involvement in an unregistered charity in Virginia.
The indictment remains sealed and the nature of the charges are not known. However, in March, the US House Committee on Ethics reported that it had opened an investigation on the Jacksonville FL Democrat. This came just a few weeks after the director of a charity with ties to Brown pleaded guilty to fraud. That director has agreed to cooperate with federal prosecutors. The committee deferred the probe due to a request from the Department of Justice, which still has the charity under investigation, which is called One Door for Education Inc. During a press conference a few days after the ethics probe was released to the public, Brown claimed that she did nothing wrong but would not talk about the specifics of the case. Prosecutors claim that the director of the charity, Carla Wiley, claimed her organization is an educational charity but she never got tax exempt status or filed any state/federal tax returns. Nonetheless, she solicited more than $800,000 in donations. Also, from 2012-16, Wiley transferred to her own accounts at least $140,000 but the group issued only a single scholarship for $1000. Documents in the director's case do not mention Brown's name, but prosecutors think that the $150,000 in charity funds were used for events hosted by an unnamed public official, who they think is the congresswoman.
#4: Dennis Hastert
Position: Former US congressman and Speaker of the House
Charges: Violation of federal banking laws
Random Fact: Hastert was a high school wrestling coach in Illinois before he started his political career.
Summary: It was announced recently that former Speaker of the House Dennis Hastert will serve 15 months in federal prison for illegally paying an alleged sexual abuse victim quiet. Hastert is one of the highest ranking politicians in America to ever due time in prison. He also is the first former US House speaker to be both convicted and sentenced in a criminal case.
Hastert pleaded guilty in late 2015 to violating federal banking laws and lying to the FBI. He did these things to keep secret that he sexually molested a high school wrestler in the 1970s.
The reason he is going to jail is not so much for the sexual abuse allegations; he was convicted for breaking banking laws as he tried to keep his alleged victim quiet. Then he lied to the FBI about it as they began to investigate.
Hastert first got attention from the IRS and FBI in 2013 for withdrawing large amounts of money from several banks. At first, federal investigators thought Hastert was being extorted, and Hastert claimed as much. He told the FBI that a man was making false claims that he had molested him decades ago.
However, investigators soon suspected Hastert was lying. They listened to Hastert speaking to the alleged victim on a recorded call, and they were fairly certain that the man was making legitimate claims.
Hastert eventually admitted that he was withdrawing money in small enough amounts to avoid having to report them to the IRS. Federal law requires that cash transactions over $10,000 must be reported to the feds with a Currency Transaction Report. It also is against the law to break up larger transactions into smaller ones.
Court documents state that Hastert agreed to pay the man over $3.5 million in installments. It is not necessarily illegal to pay hush money in this way, but Hastert ended up violating banking laws.
The federal government did not charge the former Speaker with sexual misconduct, although the FBI wanted to do so. There were at least five alleged  victims dating more than 40 years ago. The statute of limitations had run out on those alleged crimes.
#5: Mike Hubbard
Position: Former Alabama House Speaker
Age: 54
Charges: Ethics violations
Penalty: 18 years; four to be served in prison
Random Fact: Hubbard is just one of several scandal-ridden Republicans in the Alabama state government, with Chief Justice Roy Moore also facing judicial ethics charges.
Summary:
Former Alabama House Speaker was sentenced in July 2016 for violating Alabama's ethics laws, with Lee County AL Circuit Judge Jacob Walker delivering a four year sentence.
Some of the ethics violations included soliciting lobbyists and company executives for business and consulting contracts. He also used his office to benefit his own business clients. Prosecutors stated that Hubbard had violated the trust of Alabama voters, and they requested a five year prison sentence. Hubbard stated during the trial that he was innocent and argued that he never used his office to benefit personally. However, a jury convicted him June 10 on 12 counts of ethics law violations. Prosecutors argued that he betrayed both his constituents and his fellow House members. They also argued that a five year sentence was in line with what other politicians in the state had received for corruption convictions. One of those was the six years that former Governor Don Siegelman received after being convicted for selling a board appointment to a 1999 lottery campaign contributor. Hubbard was one of the most influential politicians in Alabama for years, but he was removed from office in 2012 after he was convicted of a felony.
#6:Chaka Fattah
Position: Former Congressman
Charges: Racketeering, conspiracy, bribery, money laundering and fraud
Random Fact: Fattah is an 11 term congressman and he has announced that he will resign in the next three months
Summary: In late June 2016, PA Rep. Chaka Fattah was convicted on several federal corruption charges. Fattah is a 59 year old Democrat and he was found guilty on all 23 corruption charges.
The charges were related to various schemes to repay an illegal $1 million loan to his failed Philadelphia mayoral campaign. Prosecutors said that he would route federal grant money and nonprofit money through various consultants to pay back the loan.
He also encouraged someone in his campaign operation to set up a fake nonprofit so that he could funnel federal grant money through it. He also funneled money from campaign funds to pay off the college debts of his son. His son was having trouble paying his tuition at Drexel University, so the congressman stole campaign money to pay the tuition.
According to the US Attorney on the case, Fattah and his co-defendants betrayed the public trust and he has undermined the public's faith in government.
Fattah will remain out of jail on bail until sentencing in October.
#7:Timothy Beaudette
Position: New York Police Department Inspector
Age: 50
Charges: Bribery
Potential Penalty: 5 years
Random Fact: Beaudette got involved in the illegal bribery scheme in part to prevent his boss from getting angry with him.
Summary:
NYPD Inspector Timothy Beaudette has been indicted for helping a police bribing businessman after being asked to do so by a well known corrupt deputy chief at the NYPD.
In one example, Beaudette helped the dirty businessman Jeremy Reichberg get back a $250k diamond from another jeweler. Beaudette sent a sergeant to clean up an argument between Reichberg and the other jeweler in 2015.
Reichberg was recorded on a federal wiretap calling Beaudette and telling him that he needed his help to recover the very valuable diamond. The businessman was afraid that it was going to get stolen so he wanted Beaudette to recover it for him.
The FBI interviewed Beaudette who told them that he would settle these types of disputes for Reichberg because he was afraid that if he didn't Reichberg would tell his powerful superiors.
#8:Ron Calderon
Position: Former Louisiana state senator
Age: 58
Charges: Mail fraud, wire fraud, honest services fraud, bribery
Potential Penalty: 10 years
Random Fact: Calderon sought bribes for himself to help pay his son's college tution.
Summary:
Former Louisiana State Senator Ron Calderon pleaded guilty to federal mail fraud a few weeks after his brother admitted that he allowed bribe money for Calderon to be funneled through his company.
Calderon admitted that he accepted thousands in bribes in exchange for doing various official acts as state senator. Calderon made a plea agreement with federal prosecutors that stated that the feds would not seek a sentence of more than six years. Sentencing is set for Sept. 19. In the plea deal, Calderon admitted that he accepted bribe payments from a Long Beach LA hospital owner who wanted a law to stay in effect so he could reap millions of dollars in illegal profits from another fraud scheme. His brother Tom Calderon also pleaded guilty to money laundering and will also be sentenced in September. He admitted that he agreed to hide bribe payments for his brother from two FBI agents who were undercover.
#9:Sheldon Silver
Position: Former New York State Assembly Speaker
Charges: Extortion and bribery
Potential Penalty: 12 years
Random Fact: Silver is trying to avoid prison time after the US Supreme Court recently vacated the conviction of ex-Virginia Governor Bob McDonnell. The overturned conviction centered around what an 'official act' is by a government official.
Summary: A top New York state legislator was sentenced recently to a 10 year prison term after he was convicted on charges of extortion and bribery. However, former state Assembly Speaker Sheldon Silver is requesting that he remain free pending an appeal after a recent US Supreme Court ruling.
Silver is a 72 year old Democrat who was convicted in 2015 in a $5 million corruption case and received a 12 year prison sentence. It was proven that he had accepted millions in bribes and kickbacks in two different schemes.
The conviction and long sentence is the second highest corruption outcome for a New York state politician in the last 10 years.
#10: Michael Morgan
Position: Former leader of the Oklahoma State Senate
Age: 61
Charges: Bribery
Potential Penalty: 18 months
Random Fact: Morgan's original sentence was probation which was thrown out by an appeals court as too lenient.
Summary:
The former leader of the Oklahoma State Senate was sentenced last month to 18 months in federal prison after his original probation sentence was thrown out by an appeals court.
US District Judge Robin Cauthron sentenced Michael Morgan for one count of bribery in March 2012.
Jurors deadlocked or acquitted him of 61 other counts, including 33 felonies. He originally faced 10 years in prison.
Prosecutors stated that Morgan, who was a lawyer, accepted money from an assisted living company that were masked as legal fees in exchange for legislative favors. Specifically, he took 12 $1000 bribes in 2006-7 which were disguised as legal fees, from Silver Oak Senior Living Center. Evidence indicated that the senior living center had been wrangling with the Oklahoma Department of Health, which was trying to impose new regulations on the industry.
In exchange for the bribes, Morgan authored a senate bill that became law in 2007 that helped Silver Oak reduce its regulatory burdens.