COURT CLERK INSIDER REVEALS CORRUPTION IN NJ CIVIL COURTS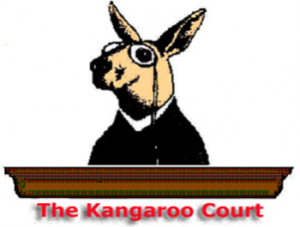 READ FULL ARTICLE FROM NJ.COM HERE:
Clerk says fix was in on judge's cases; judge calls allegations 'baseless' | NJ.com.
ALSO READ FEDERAL COMPLAINT REGARDING COURT CORRUPTION IN MORRIS COUNTY HERE:
Dearie-v-Gannon FEDERAL COMPLAINT- A 42 PAGE COMPLAINT THAT IS TERRIBLY DISTRESSING AND CONCERNING TO READ IN FULL… ITS A PAGE TURNER!!!
We have often wondered why New Jersey Court insiders so rarely blow the whistle, on the corruption within the courts.
The experience of Morris County Clerk John Dearie appears to answer that question.
It appears that court officers and judges will immediately abuse their offices and retaliate against lawful persons with just consciences and immediately victimize the party attempting to uphold the rule of law within the court house.
IN THE LINKED ARTICLE:  (ABOVE) we learn that there was a clerk in Morris County who witnessed a Judge (Gannon) who repeatedly violated the rights of litigants by ruling on motions without reviewing the papers, signed orders prior to oral arguments (ruling on the matter before it was heard) and as if that wasn't enough the Judge apparently (based on Mr. Dearie's recent federal court complaint) admitted to profiteering from his post and enriching his own political allies. Further it appears – based on the complaint filed in Federal Court (as if this isn't bad enough) Judge Gannon sexually harrassed law clerks and made inappropriate / sexually motivated advances toward parties litigating in his court.
The law clerk's complaint details in excruciating detail how the ACJC and the supervising Judges failed to address manifest and massive injustice in Morris County's civil courts.
While we would like to speak and report on this story after getting additional information from the whistle blowing law clerk that currently appears to be impossible…..
because
shortly after filing his complaint THE LAW CLERK WAS SENT TO A MENTAL HOSPITAL AGAINST HIS WILL, PRESUMABLY AS A RESULT OF A COURT ORDER DESIGNED TO SMEAR THE LAW CLERKS NAME AND IMPEDE HIS ABILITY TO CONTINUE WITH HIS LAWSUIT.
SEE THE OUTRAGEOUS JUDICIAL MISCONDUCT ALLEGED BY THE LAW CLERK HERE:
THIS IS A COMMON TACTIC IN FAMILY COURT AND CIVIL COURTS… the courts will smear the mental competence of an innocent litigant or party in order to discredit their justifiable outrage.
SUPPORTING EVIDENCE AND LINKS:
In fact as readers of this news website know this exact circumstance occurred in Mr. Derek Syphrett's legal affairs, where he was declared incompetent / assigned counsel against his will without a hearing or evidence being admitted into the court case of FM-11-97-000011K… Judge Fitzpatrick actually declared Mr. Syphrett legally incompetent after Mr. Syphrett won his prior motion which was written pro se by Mr. Syphrett, then acting as Attorney in Fact for the matter… a few months later the court appointed counsel filed emergent motions to be released only after Mr. Syphrett advised them that he intended to sue their law firms for taking the case unlawfully as part of a civil conspiracy against Mr. Syphrett's constitutionally protected rights to control the legal strategy of his case and his right to a hearing before being assigned counsel.
DEARIE INDICATED THAT THE ACJC AND ASSIGNMENT JUDGE IN MORRIS COUNTY WORKED TO COVER UP  THE JUDICIAL MISCONDUCT ALLEGATIONS RATHER THAN ADDRESSING WHAT ARE SERIOUS CONCERNS OF CORRUPTION WITHIN THE NEW JERSEY COURTS… PAR FOR THE COURSE AS READERS OF THIS SITE ARE NO DOUBT FULLY AWARE.tle
READ MORE ABOUT THIS STORY HERE:
http://abovethelaw.com/2015/02/law-clerk-files-totally-unhinged-lawsuit-against-his-own-judge/
NJCOURTCORRUPTION HAS REACHED OUT TO JOHN DEARIE AND REQUESTED A RESPONSE FROM JUDGE GANNON AS WELL (AFTERHOURS)… WE WILL UPDATE THIS ARTICLE IF ANY RESPONSES ARE RECEIVED FROM THE PARTIES OR THEIR COUNSEL.