Magistrate Richard E. Andronici Resigns Abruptly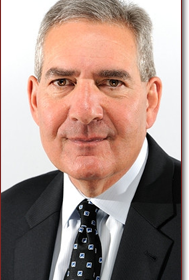 The longtime municipal magistrate of Westampton had abruptly resigned in a strongly worded letter defending his performance. Richard who has a history of practicing law from the bench might be 1 of many reasons his conduct was addressed.
Richard E. Andronici, who was the westampton magistrate for 12 years, had written a letter on the 6 of March with his resignation letter. The letter was written to Mayor Carolyn Chang — with copies to Superior Court Assignment magistrate Ronald E. Bookbinder and others in which he rebuts criticism he says Chang leveled at him at a recent meeting. Chang was on vacation unavailable for comment.
The magistrate ends the letter by declining a one-year appointment he says she offered, asserting it was "legally questionable" because a 3-year appointment is required. State law and a 1989 state court decision in a Passaic case says municipal judgeships are for 3 years.
Township committee has appointed a new municipal magistrate Mr. Rodney Thompson of Ewing at a yearly salary of $40,152 without benefits. The Townships administrator Ms. Donna Ryan said he is not expected to begin work until April and will preside Thursday mornings.
Mr. Thompson will remain a full-time municipal magistrate in Trenton, where he was appointed in 2012. His salary there was not immediately available. He declined to be interviewed or provide his resume or any comments on his new position.
In the letter, Andronici said he polled lawyers about his performance and asked them to reach out to others who have appeared before him and ask their opinions anonymously after the mayor expressed concerns about his performance.
Mr. Andronici said; "I received extremely favorable comments concerning all of the necessary qualifications for a magistrate: temperament, integrity, fairness, legal ability and work ethic,". "You made it clear during our meeting that you were unable to provide that full commitment due to concerns about my performance. Continuing in my position without that full commitment will impair my ability to perform judicial duties," he concluded.
One must question the validity of his so called favorable comments.
Andronici continues to serve as municipal magistrate in nine other Burlington County towns and has been a magistrate for 22 years.
Magistrate Ronald Bookbinder issued a court order appointing chief presiding municipal magistrate Dennis McInerney to fill the void until a new magistrate starts.
Many have said that Mr. Richard is unjust, and a ruthless magistrate who has conducted himself through the years as some one who cares but when confronted by people who represent/present themselves and the Constitution or he simple does not like for whatever reason he has a hard time of accepting that and retaliates with unlawful actions, threats, coercion and deceitfulness.
He has been known with practicing law from the bench like putting in pleas for defendants throughout his career in which is considered malpractice & Ethical Misconduct and maybe this has caught up to him and lead to his abrupt resignation in Westampton.
If anyone has has a bad experience with this magistrate please comment below and or file a complaint with Supreme Court of New Jersey Advisory Committee On Judicial Conduct here 
We The People Must Not Tolerate This Type Of Misconduct By Any Public Servant And Hold Them Accountable For Their Actions.
Advisory Committee on Judicial Conduct How to File Complaint About a Judge
What the Committee needs is a signed letter or complaint form, identifying the judge and specifying exactly what it was that the judge did or did not do to give rise to the complaint. If it was something the judge said, quote the judge as best you can recall. Enclose any documents that you think support your complaint. Send the letter to: The ACJC, PO Box 037, Trenton, NJ 08625-0037. And write "complaint about a judge" somewhere on the envelope.
When we receive a letter of complaint in this office, we make nine photocopies of the complaint and any supporting documents sent with it, such as transcripts. A couple of weeks before one of the Committee's meetings, which take place every five or six weeks, we forward one copy to each member of the Committee. The members review the complaint, along with other materials regarding other matters, and they discuss it at their next meeting. They then decide if there is a basis for a charge of improper judicial conduct that might lead to the institution of formal judicial disciplinary proceedings.
If the members decide that there is no basis for disciplinary action, they will direct us to let you know. If, on the other hand, they decide that there may be such a basis, they will direct that an investigation be conducted and they will determine the scope of such an investigation. In that event, you will not be kept apprised of the status of the matter, but you will be notified if your further participation is needed and you will certainly be notified of the Committee's eventual disposition.
When formulating your letter to the Committee, please keep in mind the fact that the Committee is a disciplinary panel, not a court. The nine members are all private citizens and they are not empowered to determine whether any judicial decision is correct under the law or the facts of a particular case. Only an appeals court is empowered to review judicial decisions, upon the timely filing of an appeal. The Committee's jurisdiction runs to questions of judicial conduct, not judicial decisions, and its disciplinary actions have no impact of any sort on court cases.