Cop Secretly Records Police Chief's Racist Rants, Assaults Against Handcuffed Black Suspect, Leading to Hate Crime Charges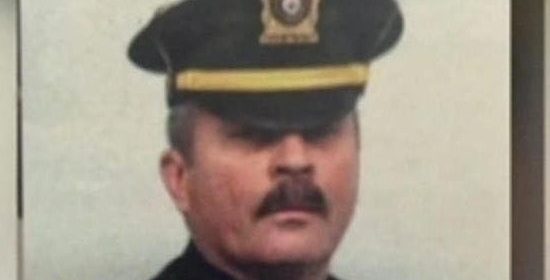 This article was originally posted on Atlanta Black Star's
website via the link here
Jurors heard testimony Monday from a New Jersey police officer who secretly recorded his police chief for almost a year to catch the man in racist rants and the alleged assault of a Black man.
Ex-Bordentown Township Police Chief Frank Nucera faces federal hate crime charges stemming from an incident three years ago, according to the Burlington County Times.
On the second day of Nucera's trial, K-9 Sgt. Nathan Roohr testified that he saw the former chief grab the head of a handcuffed 18-year-old Black man "like a basketball" and slam it into a metal door jamb at a township hotel in 2016.
The case is believed to be the first in more than a decade involving a police chief accused of a federal hate crime, the newspaper reported.
The defence has argued of the incident Sept. 1, 2016, that while the recordings reveal "ugly, embarrassing and disgusting words," Nucera did not assault the man and no crime was committed.
The incident in question happened Sept. 1, 2016, when a hotel manager called police on the 18-year-old man and a 16-year-old girl he was with.
The couple was accused of failing to pay for their room and swimming in the hotel's pool, according to several media reports.
The incident escalated into a physical struggle when authorities arrived and the man was pepper-sprayed and handcuffed, according to an affidavit.
As the arresting officer walked the older suspect from the hotel to the police car, he suddenly stopped and started yelling, according to a criminal complaint unsealed in federal court Nov. 1, 2017.
That's when Nucera slammed his head into a metal door jamb and hit him in the head with his arm when the teen complained, the complaint alleged.
Nucera was heard in a secret recording repeatedly referring to the couple and the girl's aunt as the N-word later at the police station, NBC News reported.
It wasn't the first time he was recorded going on a racist tirade.
In one recording played in court Monday, Nucera said he was "getting to the point where I can shoot one of these [expletives]" and that "Donald Trump is the last hope for white people."
In November 2015, Nucera also told the officer secretly recording him that he believed a Black suspect had slashed the tires of a police car.
"I wish that n—-r would come back from [Trenton, N.J.] and give me a reason to put my hands on him. I'm tired of 'em," Nucera said.
"These n—–s are like ISIS, they have no value," he added. "They should line them all up and mow 'em down. I'd like to be on the firing squad. I could do it."
Nucera served as a township administrator and chief for more than a decade before he left both posts, the Burlington County Times reported.
He has pleaded not guilty to all charges against him, which include hate-crime assault, deprivation of civil rights and lying to the FBI.
He faces a possible 20-year prison sentence plus the permanent loss of his police pension, which was suspended earlier this year, the Burlington County Times reported.